Le Kenya était une de nos futures destinations Atheris, planifiée depuis une année environ. Mais le contexte sanitaire a quelque peu compliqué la situation et contrecarré nos plans. Cela faisait plus d'un an déjà, donc, sans voyage et sans réel perspective de trip herpéto. En France, la situation est plus que pesante, je devrais même dire déprimante. Les médias n'ont cesse de parler, h24, de morts, de maladies, de contraintes sanitaires. Ne surtout pas voir ses amis, ne surtout pas profiter de la nature, métro, boulot, dodo, merci pour « l'effort de guerre ». Progressivement, les gens basculent dans la peur. Je m'en rends compte progressivement même dans mon entourage. Quand mon ami suisse Robin m'appelle en janvier pour un petit conseil photo, et qu'il me dit qu'il part dans quelques jours au Kenya, ma première réaction a été : « je peux venir ? ». Réponse par l'affirmative, me voilà trois jours avant le décollage prévu, à acheter un billet d'avion, réaliser en urgence les différentes contraintes administratives, et faire mon sac. Je ne suis absolument pas préparé, mais peu importe !
Kenya was one of our future Atheris destinations, planned for about a year. But the health context complicated the situation somewhat and thwarted our plans. It had been more than a year already without a trip and without any real idea of a herping trip. In France, the situation is more than heavy, I should even say depressing. The media keep talking, 24 hours a day, about deaths, illnesses, health constraints. Don't see your friends, don't take advantage of nature, metro, work, sleep, thank you for the "war effort". Gradually, people fall into fear. I am gradually becoming aware of this, even in my own environment. When my Swiss friend Robin called me in January for a little photo tip, and told me he was leaving for Kenya in a few days, my first reaction was: "Can I come? ». He answered yes, and here I am three days before the planned take-off, buying a plane ticket, urgently carrying out the various administrative requirements, and packing my bag. I am absolutely unprepared, but it doesn't matter!
Le but de ce voyage au Kenya est de photographier quelques uns des serpents les plus rares et les plus spectaculaires du pays. Citons Bitis worthingtoni, une rare petite vipère cornue endémique du secteur de Naivasha, Montatheris hindii, une très localisée petite vipère, spécialiste de la haute montagne, et Atheris desaixi, une vipère endémique du Mont Kenya. Ces trois espèces sont très rares et n'ont pratiquement jamais été photographiées dans la nature. C'est parti pour l'aventure, avec deux autres extrémistes (suisses, des extrémistes suisses, c'est possible ça ?) de l'herpétofaune et des vipères, que sont Robin et Yannick !
The purpose of this trip to Kenya is to photograph some of the rarest and most spectacular snakes in the country. These include Bitis worthingtoni, the Kenya Horned Viper, a rare and endemic viper to the Naivasha area, Montatheris hindii, the Kenya Montane Viper, specialist in high mountains, and Atheris desaixi, the Mt Kenya Bush Viper, endemic to Mount Kenya. These three species are very rare and have hardly ever been photographed in the wild. Let's go for the adventure, with two other Swiss extremists (Swiss extremists, is it possible?) of herpetofauna and vipers, Robin and Yannick!



Lac de Naivasha –

Naivasha Lake
Arrivée en tout début de matinée à Nairobi. Nous récupérons la voiture et filons directement à notre première destination, un campement près du lac de Naivasha. Déjà sur la route, les premières péripéties commencent, et je comprends que la route ne sera pas de tout repos. Distraits par des photographes installés au bord de la route, nous nous retrouvons face à face avec un camion… évité de justesse. Premières gouttes de sueur. Le campement à Naivasha est situé dans une sorte de savane où se promènent en liberté nombres de grands mammifères. Dont les hippopotames, première contrainte à nos envies de prospection nocturne (les hippopotames sortent de l'eau durant la nuit pour se nourrir). Ce sont des animaux relativement dangereux, à éviter.
Arriving in Nairobi in the early morning, we pick up the car and drive straight to our first destination, a camp near Lake Naivasha. Already on the road, the first adventures begin, and I understand that the road will not be restful. Distracted by photographers on the side of the road, we find ourselves face to face with a truck… narrowly avoided. First drops of sweat. The camp at Naivasha is located in a kind of savannah where many large mammals roam freely. Including hippos, the first constraint to our desire for night exploration (hippos come out of the water during the night to feed themselves). They are relatively dangerous animals and should be avoided.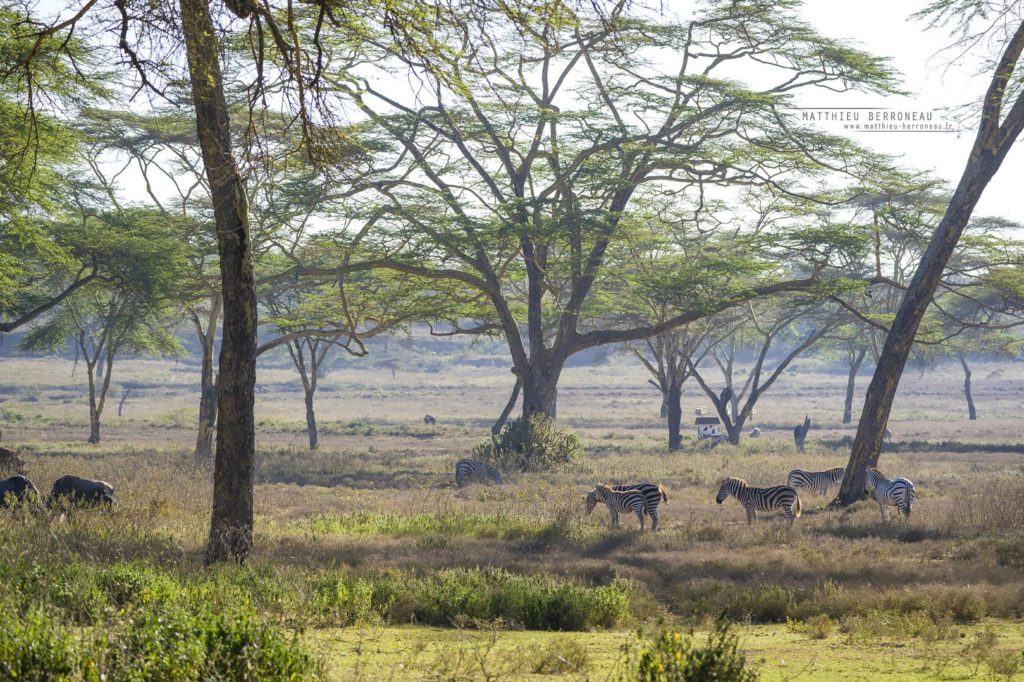 Le secteur de Naivasha est extrêmement sec et tout n'est que poussière. Le matériel, s'en sort, par miracle relativement indemne. C'est moins le cas de la voiture. Autre fait, lors de la traversée d'un village, une mini (enfin mini maxi) tornade se déclenche. Très impressionnant. Sur place, nous avons rendez-vous avec un herpéto local qui nous emmène sur deux sites où est parfois observée Bitis worthingtoni. Chou blanc sur ces deux sites, même si d'autres espèces sont observées (quelques geckos, Leptotyphlops merkeri, un Psammophylax multiscamis fort en tour de passe-passe). Nous tentons le soir une session road-cruising, sans réel succès : un nouveau Leptotyphlops (si si, « spotté » en roadcrusing depuis la voiture !) et surtout un grand Naja nigricollis… écrasé. Le lendemain, notre herpéto locale se décide de nous emmener sur un autre site, beaucoup plus agricole celui-ci, où le propriétaire nous attend. Le chemin d'accès est particulièrement difficile et les quatre roues motrices de l'herpéto mobile font des miracles. Finalement, tant mieux si tout est sec. Pas sûr que l'on soit passé sinon. Arrivés sur place, il fait déjà trop chaud et il n'y a plus rien à voir. Nous décidons de dormir sur place et d'y retourner de nuit et au petit matin. Nous nous arrêtons manger dans un petit restaurant, des plus… typiques pour rester poli.
Yannick et Robin, en manque de crochets, en profitent pour acheter… des râteaux, qui semblent convenir à la méthode de prospection envisagé (beaucoup d'herbes mortes à retourner). Le vendeur doit encore se demander pourquoi ces deux blancs sont venus lui acheter ces outils de jardinage… Nous décidons de retourner vers la propriété quand un ado monté sur une moto nous interpelle par la fenêtre. Nous stoppons, il nous dit :
– I have a snake for you !
– What type of snake ?
– With horns !
– Oh !
Incroyable. Tout se sait vite dans ces petits villages. Cet enfant a trouvé, en retournant la terre, la fameuse vipère tant recherchée. Le voilà monté dans la voiture (la moto attendra au bord du chemin), nous nous dirigeons chez lui où nous attend le serpent… et toute la famille par la même occasion, qui veut profiter du spectacle. Nous ouvrons le pochon devant la foule, et oui, c'est bien une Bitis ! C'est donc parti pour une session photo, plutôt en urgence, et sous des regards insistants, avant de relâcher la bête dans un lieu sûr. Nous décidons alors de rentrer à notre premier campement pour la nuit.
The Naivasha area is extremely dry and everything is dust. The equipment miraculously escaped relatively unscathed. This is less the case of the car. Another fact: while crossing a village, a small tornado is triggered. Very impressive. On the spot, we have an appointment with a local herper who takes us to two sites where Bitis worthingtoni is sometimes observed. Nothing on these two sites, even if other species are observed (some geckos, Leptotyphlops merkeri, Psammophylax multiscamis). In the evening, we try a road-cruising session, without real success: a new Leptotyphlops (yes, spotted by roadcrusing from the car!) and especially a big Naja nigricollis… dead on the road. The next day, our local herper decides to take us to another site, much more agricultural, where the owner is waiting for us. The access road is particularly difficult and the four-wheel drive of the herper car makes some miracles. In the end, hopefully everything is dry. Otherwise, I'm not sure we would have passed. When we get there, it is already too hot and there is nothing to see. We decide to sleep there and go back at night and in the early morning. We stop to eat in a small restaurant, very "typical" to stay polite.
Yannick and Robin, in lack of hooks, take the opportunity to buy… rakes, which seem to be suitable for the prospection method envisaged (a lot of dead grass to return). The seller must still wonder why these two white men came to buy these gardening tools… We decide to go back to the property when a teenager on a motorbike calls us from the window. We stop, he tells us:
– I have a snake for you!
– What type of snake?
– With horns !
– Oh!
Unbelievable. Everything is known quickly in these small villages. This child has found, by turning the land upside down, the famous viper. He get in the car (the motorbike is waiting by the side of the road), we go to his house where the snake is waiting for us… and all the family, who wants to enjoy the show. We open the pouch in front of the crowd, and yes, it is a Bitis! So start a photo session, rather urgently, and under insistent looks, before releasing the animal in a safe place. We then decide to go back to our first camp for the night.
Les râteaux ? Ils n'ont pas servi, Robin et Yannick les ont laissés au local qui n'en demandait pas tant.
The rakes? They were not used, Robin and Yannick left them to the local who was not asking for that much.



Route vers les montagnes d'Aberdare –

Road to Aberdare mountains
Le lendemain matin, nous disposons d'une petite heure pour photographier l'Agame local Agama caudospinosa, puis nous prenons la route pour Aberdare. La route s'annonce longue et chaotique, mais se déroule relativement bien.
Un peu comme au Mexique (en moins pire quand même), les dos d'âne sont très nombreux et mal signalés (voir pas du tout). Je ne compte plus le nombre de fois où j'ai crié « TOPE ! » (vieux réflex mexicain) pour prévenir le conducteur  d'un éminent décollage des quatre roues, couplé d'une perte du châssis et d'un tassement de vertèbre. Bref, en voiture, les passagers restent bien éveillés. Sur la route, Yannick et Robin discutent souvent de leurs spots à vipères en Suisse. La vallée « Machin », le site « Truc ». N'étant pas  du coin, c'est pour moi du chinois, mais ça donne envie de retourner en Suisse pour une petite session herpéto (on ne se refait pas).
The next morning we have just an hour to photograph the local Agama caudospinosa, then we set off for Aberdare. The road which promised to be long and chaotic goes relatively well.
A bit like in Mexico (although not as bad), speed bumps are very numerous and not very well indicated (or not at all). I can't count the number of times I shouted "TOPE! "(old Mexican reflex) to warn the driver of an eminent take-off of the four wheels, coombined with a loss of the chassis and a compression of the vertebrae. In short, in the car, the passengers remain wide awake. On the road, Yannick and Robin often discuss their viper spots in Switzerland. This valley, this site… I don't understand anything, but it just makes me want to go back to Switzerland for a little herping session…
Aberdare est cet immense plateau montagneux, qui atteint 4000 m et borde l'ouest du Mont Kenya. Cet habitat de montagne, si particulier, abrite la très rare (probablement le serpent venimeux le plus rare d'Afrique) Montatheris hindii, une vipère hautement spécialisée dans la haute montage. C'est d'ailleurs – apparemment – la seule espèce de serpent du secteur. Les adultes ne mesurent pas plus de 35 cm de long, plus généralement entre 20 et 30 cm. La femelle met bas à seulement deux petits par portée… qui mesure déjà 10 à 14 cm à la naissance !
Malgré l'altitude et les températures extrêmes, la vie est bien présente au sein de ce parc national, il faut le dire, exempt de tout dérangement humain. Les cervidés de tout genre et de toute taille tournent autour du campement. Nous avons en effet tendu les toiles de tente pour la nuit, qui s'annonce froide. C'est peu dire. La température va largement descendre en-dessous de zéro. Le feu de camp ne nous réchauffera à peine, et le sommeil sera plusieurs fois interrompu par le froid. Avant de se coucher, nous prenons d'abord le temps de photographier un des plus remarquables caméléons observés pendant le voyage, Trioceros hoehnelii. Son look est absolument génial. Par chance, il semble très abondant autour du camp.
Aberdare is this large mountain plateau, which reaches 4000 m and borders the west of Mount Kenya. This unique mountain habitat is home to the very rare (probably the rarest venomous snake in Africa) Kenya Montage Viper Montatheris hindii, a highly specialised high mountain viper. It is also – apparently – the only species of snake in the area. Adults measure no more than 35 cm long, more generally between 20 and 30 cm. The female gives birth to only two offsprings per litter… which is already 10 to 14 cm long at birth!
In spite of the altitude and extreme temperatures, life is very present in this national park, which, it must be said, is free of any human disturbance. Deer of all kinds and sizes roam around the camp. We have put up the tents for the night, which promises to be cold. That's an understatement. The temperature will drop well below zero. The campfire will barely warm us up, and sleep will be interrupted several times by the cold. Before going to bed, we first take the time to photograph one of the most remarkable chameleons observed during the trip, High-casqued Chameleon Trioceros hoehnelii. Its look is absolutely amazing. Luckily, it seems to be very abundant around the camp.
Le lendemain matin, le soleil réchauffe rapidement l'atmosphère. Les écarts de températures entre la nuit étoilée et le jour ensoleillé sont impressionnants. Les reptiles rentrent donc rapidement en activité. Nous observons rapidement le Lézard vivipare local, Adolfus masavaensis (la convergence évolutive entre les deux espèces est sidérante !), le caméléon, et le scinque endémique de la région, Mabuya irregularis. Durant la prospection des landes, je vois s'enfuir un animal étrange que je n'ai pas le temps de photographier. Mais j'en suis quasi certain, il s'agissait de Chamaesaura anguina !!! Je rêve de pouvoir photographier un jour cet animal. Un peu plus loin, alors que je me déplace en silence à la recherche des vipères, je tombe nez à nez avec un Serval tout noir qui s'enfuit à toute vitesse. Je n'ai même pas eu le temps de sortir l'appareil. Encore une occasion manquée de photographier une observation incroyable. Un peu plus loin, Robin nous appelle. Il vient de trouver une Montatheris. Et elle n'était qu'à une dizaine de mètres du camp… Excellent choix d'emplacement décidément. Oh joie, cet animal est décidément tout petit, mais plein d'énergie. Le temps pour quelques photos, et la bête retrouve son buisson fétiche.
The next morning, the sun quickly warms up the atmosphere. The temperature differences between the starry night and the sunny day are impressive. Therefore, the reptiles quickly become active. We quickly observe the local viviparous lizard, Adolfus masavaensis (the convergent evolution between the two species is staggering!), the chameleon, and the endemic skink of the region, the Alpine Meadow Mabuya Trachylepis irregularis. While prospecting the moors, I see a strange animal running away that I don't have time to photograph. But I'm almost certain it was  the Cape Grass Lizard Chamaesaura anguina !!! I dream of being able to photograph this animal one day. Later on, as I move silently in search of vipers, I come face to face with a black Serval running away at full speed! I didn't even have time to take the camera out. Another missed opportunity to photograph an incredible sighting. A little further on, Robin calls us. He has just found a Kenya Montane Viper. And it was only about ten meters away from the camp… It is truly an excellent choice of location. What a chance! This animal is definitely very small, but full of energy. I just had time to take few pictures, and the beast finds its fetish bush.
Notre mission à Aberdare est officiellement accomplie, il est temps désormais d'aller vers notre dernière (et pas des moindres !) cible du trip.
Our mission in Aberdare is officially accomplished, it is now time to move on to our last (and not least!) target of the trip.



Chuka, flanc ouest du Mont Kenya –

Mt Kenya western slopes
Nous arrivons dans l'après-midi à Chuka. Le temps de rencontrer le guide, de discuter devant quelques frites et une bonne bière kenyane, et c'est rapidement l'heure d'aller sur le terrain. Le chemin vers la forêt grouille littéralement de caméléons, et notamment de Trioceros jacksonii. C'est un petit regret de ce trip : ne pas avoir pris le temps de photographier correctement cet animal qui le mérite tant. La forêt, en revanche, semble étrangement vide d'animaux. Rien ne bouge. Peu d'oiseaux, des mammifères très discrets (sauf l'éléphant des forêts qui a retourné toute la forêt et laissé des traces partout), et pas de reptiles. Seul un gecko est observé, mais il s'enfuit rapidement, et ne pourra être déterminé. L'unique photo de l'animal permettra peut-être de l'identifier, mais il ne colle avec aucun animal de nos guides de terrain. Au bord d'une mare, quelques Hyperiolus montanus chantent les pieds de l'eau, de quoi ravir Robin qui voulait absolument voir cette espèce.
In the afternoon, we arrive in Chuka. The time to meet the guide, to discuss in front of some fries and a good Kenyan beer, and it's time to go to the field. The path to the forest is literally teeming with chameleons, including the Jackson's Three-horned Chameleon Trioceros jacksonii. It is a small regret of this trip: not having taken the time to photograph correctly this animal which deserves it so much. The forest, however, seems strangely empty of animals. Nothing moves. Few birds, very discreet mammals (except the forest elephant which has turned the whole forest upside down and left traces everywhere), and no reptiles. Only one gecko is observed, but it flees quickly, and cannot be determined. The only photo of the animal may help us to identify it, but it does not match any of the animals in our field guides (it was probably Cnemaspis sp.). At the edge of a pond, a few Mountain Redd Frog Hyperiolus montanus sing the feet of the water, something that delighted Robin who absolutely wanted to see this species.
Le lendemain matin, nous décidons de partir tôt en forêt, dans l'espoir de trouver une vipère en thermorégulation. Mais, comme toujours, rien ne se passe réellement comme prévu. La visite de la forêt souhaitée s'avère être le parcours du combattant. Nous ne sommes pourtant même pas en parc national ! Nous voilà donc trimballer de bureaux de fonctionnaires en bureaux de fonctionnaires (4 au total, avec autant d'heures d'attente et de déplacement en voiture), dans le but de récupérer le droit d'entrée. A croire que les touristes ne sont pas les bienvenus ici. Au final, nous voici, passé midi – c'est-à-dire bien trop tard – enfin en route vers la forêt, affublés de deux gardes armés d'AK47, et du guide qui se retrouve… dans le coffre !
The next morning, we decide to leave early in the forest, hoping to find a thermoregulating viper. But, as always, nothing really happens as planned. The desired visit of the forest turns out to be an obstacle course. However, we are not even in a national park! So here we are, lugging from civil servant offices to civil servant offices (4 in total, with as many hours of waiting and travelling by car), in order to obtain the rigt to enter. It seems that tourists are not welcome here. In the end, we got it, past noon – that is far too late – and we finally take the road to the forest, with two armed AK47 guards and the guide who finds himself… in the trunk!
En soirée, c'est le guide qui nous trouve la bête que l'on attendait tous : Atheris desaixi ! Cette espèce, extrêmement rare et localisée, n'est quasiment connue que de cette forêt. Et les observations sont très rares. C'est parti pour une session photo, trop courte à mon goût (une telle espèce mériterait mieux) et quelques prospections complémentaires.
In the evening, it is the guide who finds us the beast we were all waiting for: the Atheris desaixi ! This extremely rare and localized species, is almost only known from this forest. And the observations are very rare. Let's go for a photo session, too short for my taste (such a species deserves better) and some complementary prospection.
Le lendemain, nous prospectons le matin en suivant les traces d'éléphant de forêt, mais rien de nouveau. Ah si, nous tombons par hasard sur des pièges de braconniers, dédiés à la capture de singes. Le premier est encore tendu, le deuxième a piégé un animal. Celui-ci est tenu par la patte et ne peut s'en défaire. Tant bien que mal, nous parvenons à le libérer (il est parti sans même nous remercier), et les rangers s'empressent de détruire le piège.
The next morning, we do some herps following the tracks of forest elephant, but nothing new. We come across poachers' traps, dedicated to the capture of monkeys. The first one is still set, the second one trapped an animal. The monkey is held by the leg and cannot get rid of it. As best we can, we manage to free it (it went away without even thanking us), and the rangers destroy the trap.
Fin de partie à Chuka, une forêt décidément bien difficile (peut-être pas la bonne saison ?), mais nous avons déjà photographié nos trois cibles et nous ne sommes même pas à la moitié du séjour ! C'est inespéré, et désormais les nouvelles espèces seront des bonus appréciables. C'est dans cet esprit que nous partons pour une longue route, plein ouest, qui s'étalera sur deux jours en direction de la forêt de Kakamega. En route, les paysages de savanes d'altitude sont spectaculaires. Nous n'avons malheureusement pas le temps ou la possibilité de nous arrêter pour une petite photo. L'escale de nuit est réalisée dans un hôtel où nous arrivons un peu tard : le restaurant ferme, les plats seront servis dans nos chambres respectives, nous mangerons donc en tête à tête avec nous même ce soir.
End of the game in Chuka, a very difficult forest (maybe not the right season?), but we have already photographed our three targets and we're not even halfway of our trip! It's unhoped for, and from now all new species will be appreciable bonuses. It is in this spirit that we leave for a long road, due west, which will last two days in the direction of the forest of Kakamega. On the way, the high savannah landscapes are spectacular. Unfortunately, we don't have the time or the possibility to stop take a photo. We stop overnight in a hotel where we arrive a little late: the restaurant is closing, the dishes will be served in our respective rooms, so we will eat face to face with ourselves this evening.